Signing API
Diversify your platforms to offer the best to your clients
100% transparent for the end user 
Simple integration within existing platforms to offer new possibilities to your customers.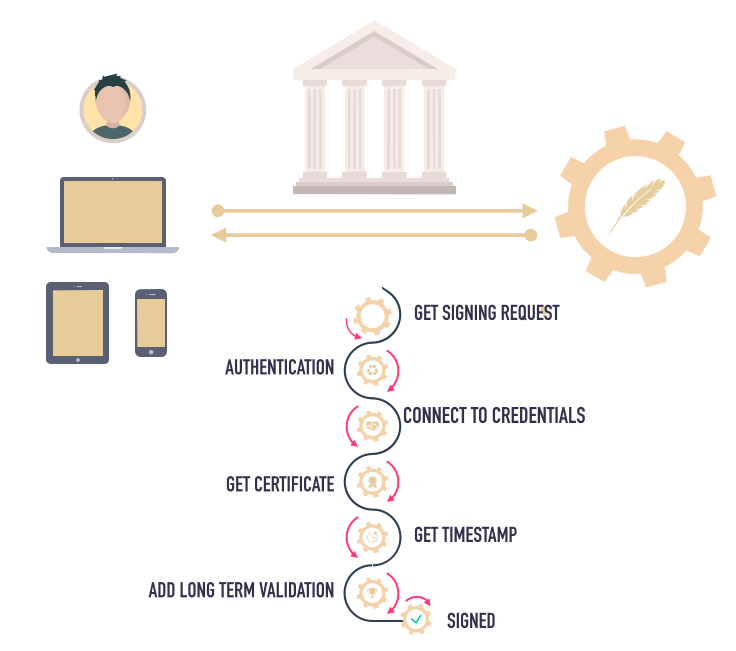 Our singing service integrates your platforms so that your clients and external partners can easily sign documents via your ebanking, client portals, mobile applications or on-boarding solution.
Out-of-the-box solution integrated with certified digital signature 
providers. Eidas and Zertes (Swiss law on electronic signature) compliant. Advanced or qualified signature. 
Legally binding signed document with official timestamp and authenticity guaranteed (the document can not be modified once it is signed).
Display in your own external platforms a document to be signed by a client or an external partners. The person who need to sign can connect to your platform the way they usually do, read the document and sign it in a simple click. No aditionnal hardware or password required. Easy.
Avoid the annoying back-and-forth of documents via post, or by the client, just when a signature is required. We have secured platforms we can provide, in case you do not have external portals, to easily implement a quick and efficient way to exchange documents with external parties.
The signature of your client or partner will be legally binding and is therefore applicable to any types of documents. Your clients will be able to sign from a computer, a tablet or a phone If several persons need to sign a document, we have a multi-signature tool easy to set-up and very practical for you.
Electronic signatures are a great way to archive electronically all your documents easily. By making your clients sign online, you can also achieve 100% electronic client files.