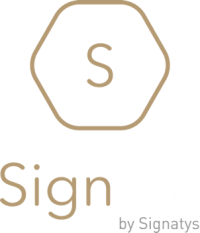 Digital trusted banking relationships 
Secure mobile solution for banks
A simple process to exchange instantly with your clients and receive their critical decisions in a secure and compliant way.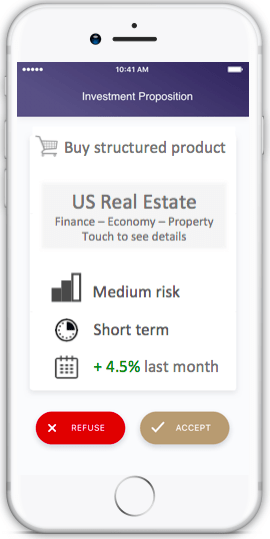 Trusted decisions 
SignMit allows secured verification between banks and clients by connecting documents to their smartphones. Financial institutions can digitalize any kind of workflow requiring a user validation that today requires a manual intervention such as:
Callback: Transactions validation
Advisory: Investment proposals
MiFID II / LSFin: Pre trade suitability report, Opt-in/Opt out documentation for customer classification change, Repapering
Documents signatures: Profile changes, General conditions
Internal validations: Approvals and (multi) signatures between employees
Smart and compliant  
All the events are tracked and carefully registered. Information are extracted directly from the application and available to banks which have access to an audit trail. It gives them the body of evidence of their clients' decisions to be compliant with various regulations such as MiFID II and LSFin. The application issue in parallel a certified and signed document.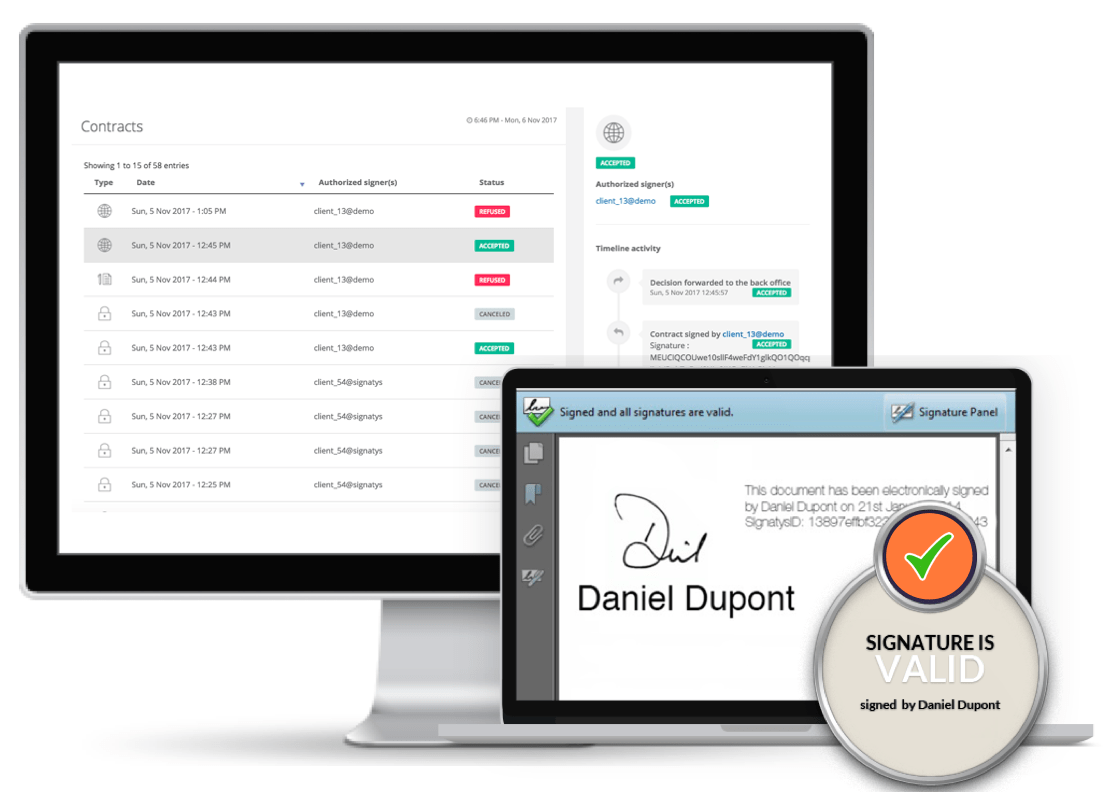 Strong authentication 
2FA authentication
Login into the mobile app with biometrics and soft token
User friendly strong authentication compliant PSD2
Digital signature
Legally binding
Out-of-the-box solution integrated with certified digital signature providers
Advanced or qualified signatures to any kind of data (PDF or raw data)
Audit trail
Easily retrieve body of evidence
All the events are tracked
When the user read the document, how long, weird behavior
Secure mobile app
Standalone app (white-labeled) for phone or tablets
Integrate within existing app through SDK
Security layer for mobile device
Simple, fast and secure ratification process
Speed up the process of sending and approving investment proposals
Retrieve easily body of evidence in the audit trail in case of dispute; when the client read the document, how long, weird behavior,…
Client can approve his transaction anytime without being bothered
CallBack process can be fully automated
Secure digital process allowing to prevent frauds
Avoid printing documents and sending them by post
Documents are signed digitally and certified by a recognized certification authority
Avoid to relationship managers to move/travel with paper documents
Signatys offices 
Rue du Marché 20
1204 Geneva
Switzerland
T +4122 311 33 22
E contact@signatys.com
Solution technical partner: